Lisa and Gaspard Dairy of Sky Journey
Walking over the sky while looking elegantly at Mt. Fuji!
Refreshing points

Nico Nico Point

The scenery point
Price

800 yen
Riding capacity

Front and rear riding
Time required

2 minutes
Height Restriction

39.4" ~ 74.8"
Age Restriction

None * Preschool children must be accompanied by an attendant of junior high school or above
Available for 65 years and older
Height restricted
2人乗りゴンドラアトラクション
急上昇・急降下・急停止を繰り返す激しいコースター
2人乗りゴンドラライドアトラクション・急上昇・急降下・急停止・急旋回
Information
Usage criteria
100㎝以上190㎝未満の方はご利用できます。
 ※身長100㎝~110㎝未満の方は付添者が必要です。
妊娠中の方のはご利用できません。

未就学児のお子様は付添者が必要です。

Passengers who are unable to maintain a correct boarding posture, unable to sit in a seat due to their physique, or unable to secure restraints are not permitted to use the aircraft.

低血圧・高血圧の方、脳血管・脳神経系異常のある方、脊髄・首・足・腰・胸に疾患のある方、心臓疾患の方、循環器系異常の方、糖尿病の方、高所恐怖症の方、体調不良の方、飲酒をしている方、乗り物酔いしやすい方、骨折をされている方、ギプスをつけている方、低骨量や骨粗鬆症など脆弱性骨折のリスクをお持ちの方、ウィッグを着用している方、スタッフが不適当と判断した方はご利用できません。
Attraction overview
■所要時間:1分32秒
■乗車定員:2名
■コース全長440.7m
■最高速度:37.5km/h
■高さ:23m
■最大加速度:1.5G

It is a ride attraction that you can take an elegant outdoor walk with Lisa and Gaspard, on a gondola shaped fluffy clouds.

There are plenty of ways to get into the world of "Lisa and Gaspard" until heading to the platform. There is no doubt that you can smile in the message spoken by two of us, "Usagi cute Parisian inhabitants" who are neither rabbits nor dogs.

When you get on a gondola with two people in front and back, you can see the majestic Mount Fuji. Feel a refreshing wind, you should be able to spend an elegant moment while enjoying a walk in the sky. From children to adults, everyone will be happy feelings! If you enjoy walking in the sky, there are booths that you can take a commemorative photo with Lisa and Gaspard.
Precautions when boarding
≪About boarding posture≫
リサとガスパールのそらたびにっきは、前後2人乗りのアトラクションです。
【後ろの方】
①横の安全バーをつかむ
②背中をのばす
③足でしっかりふんばる

【前の方】
①前の安全クッションをつかむ
②背中をのばす
③足でしっかりふんばる

3点を意識してご搭乗ください。

≪About baggage≫
Baggage, pocket contents, accessories, etc. may fall while driving, which is extremely dangerous.
Please leave all your baggage in the locker provided at the platform before boarding.
Usage criteria
Point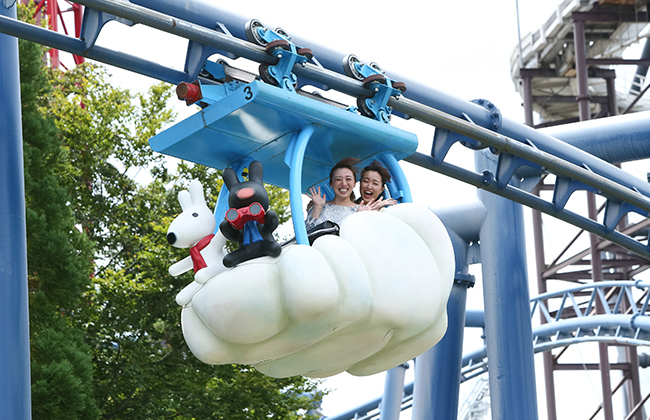 Walking over the sky while looking elegantly at Mt. Fuji!
A ride attraction that you can see the majestic figure of Mt. Fuji while riding the gondola. You can also enjoy the lively Fuji-Q Highland !
Please enjoy Lisa and Gaspard's wild world view.

Surprising thrilling surprisingly more than it looks like a walk around the sky. Also recommended for friends and couples!
Map