The movement of the clock is unpredictable! To petit panic!?
Refreshing points

Shrill Attraction point

Rotation point
Price

800 yen
Riding capacity

32 people
Time required

3 minutes 50 seconds
Height Restriction

140 cm ~
Age Restriction

~ 64 years old * Children under 10 years old must be accompanied by an attendant of junior high school or above
Information
Usage criteria
Persons under 140cm in height are not allowed.
Not available to people over 65 years old.

Not available for pregnant women.

Children under 10 years old must be accompanied by an attendant of junior high school age or older.

Passengers who are unable to maintain a correct boarding posture, unable to sit in a seat due to their physique, or unable to secure restraints are not permitted to use the aircraft.

Those with low blood pressure/hypertension, those with cerebrovascular or cranial nervous system abnormalities, those with spinal cord, neck, leg, lower back, or chest disease, those with heart disease, those with circulatory system abnormalities, those in poor physical condition, and alcohol consumption. Those who are prone to motion sickness, those who have suffered a broken bone, those who are wearing a cast, those who are at risk of fragility fractures such as low bone mass or osteoporosis, or those who are judged unsuitable by the staff. cannot be used by those who
Attraction overview
■ Height: 21.5 m
■ Rotation Diameter: 18 m
■ Maximum speed: Approximately 50 km / h

Vertical type thrill Attraction . As its name suggests, it rotates 360 degrees vertically, but the movement of the clock (clock) is unpredictable. It is inevitable that unexpected fear comes to disorderly movement!

When I ride in a suspended type that my legs were made to brackle, the ride part started linking the pendulum back and forth. The swing width gradually increases, and finally, it draws a circle of 20 m in diameter at 50 km / h and rotates. After turning 4 to 5 times, stop upside down and stop for a few seconds! Now turn around in the opposite direction for the first time ... ....

Since the advent of 1999, the clock has been advanced every day, and now this model is very valuable. How about shouldering in front of a Shrill Attraction coaster?
Point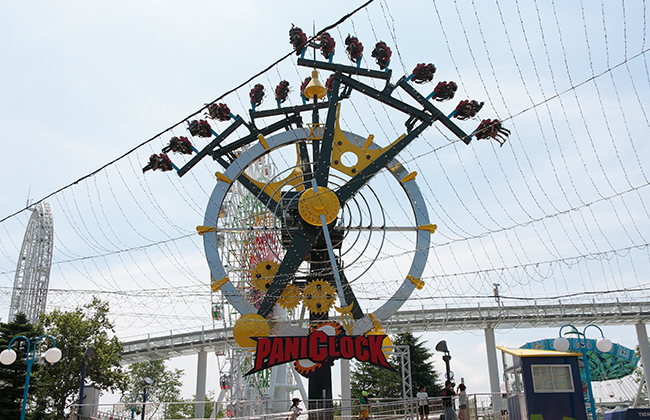 Popular with the movement of the ground!
Popular with disorderly vertical rotation movement, it is a popular Attraction . Hard rotation is worth the Challenge .

Sharp appearance that clock (clock) was designed during the day, Illumination which was lighted up at night. It is one of the landmarks of Fuji-Q Highland which forget the flow of time.
Map