A mini coaster that can be ridden from 3 years old with the image of Nia's hometown "Kenya, Africa"
Refreshing points

Pounding point
Price

400 yen
Riding capacity

12 people
Time required

-
Height Restriction

None
Age Restriction

3 years old ~ * Preschool children must be accompanied by an attendant of junior high school or above
Thomas Land
Available for 65 years and older
Mini coaster with ups and downs
Information
Usage criteria
Children under 3 years old are not allowed.
Not available for pregnant women.
Preschool children must be accompanied by an attendant of junior high school age or older.
*One companion is required for each preschool child.

Passengers who are unable to maintain a correct boarding posture, unable to sit in a seat due to their physique, or unable to secure restraints are not permitted to use the aircraft.

Those with low blood pressure or high blood pressure, those with cerebrovascular or cranial nervous system abnormalities, those with spinal cord, neck, leg, lower back, or chest disease, those with heart disease, or those with low bone mass or osteoporosis, who are at risk of fragility fractures. Those who have a medical condition, are unwell, are under the influence of alcohol, or are deemed inappropriate by the staff are not permitted to use the service.

Cameras are not allowed.
A mini coaster inspired by Nia's hometown, "Kenya, Africa"! It is a 70-second Attraction where you ride in a passenger car pulled by "Near", run through the trees, and explore while meeting animals.

After starting with Nia's departure call, the coaster runs through the trees and encounters animals while adventuring, making it a special memory for even small children. You can ride from 3 years old, so how about making your coaster debut?
Point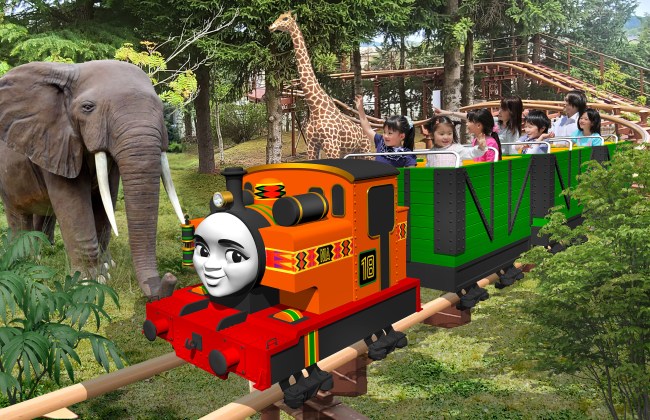 Perfect for kids' coaster debut!
A cute size coaster that lasts about 70 seconds. A coaster where you explore while meeting animals with Nia is perfect for your coaster debut.

Speaking of Nia, she is a girl with an orange body who came from "Kenya, Africa". She is very bright and wants to help everyone, so she will definitely help you create memories for the whole family!
Map