Nagashimasuka - Shoot the Chute
Japan's first! Rolling type rafting attractions
Refreshing points

Nico Nico Point

Shrill Attraction point
Price

1,500 yen
Riding capacity

4 people / unit
Time required

About 4 minutes 30 seconds
Height Restriction

110 cm ~ * People under 110 ~ 130 cm must be accompanied by an attendant of junior high school age or above
Age Restriction

~ 64 years old * Preschool children must be accompanied by an attendant of junior high school or above
Available for Priority Ticket
Available in rainy weather
Height restricted
Information
Usage criteria
Persons under 110cm in height are not allowed.
 ※110㎝~130㎝の方は中学生以上の方の同伴が必要です。
Not available to people over 65 years old.

Not available for pregnant women.

未就学児は中学生以上の付添者の同伴が必要です。

正しい搭乗姿勢を保てない方、体格によって座席に座ることのできない方、
及び拘束装置を固定できない方はご利用できません。

低血圧・高血圧の方、脳血管・脳神経系異常のある方、脊髄・首・足・腰・胸に疾患のある方、心臓疾患の方、循環器系異常の方、体調不良の方、飲酒をしている方、乗り物酔いしやすい方、骨折をされている方、ギプスをつけている方、低骨量や骨粗鬆症など脆弱性骨折のリスクをお持
ちの方、ウィッグを着用している方、スタッフが不適当と判断した方はご利用できません。
Attraction overview
■ Runway Length: 500 m
Height ■: 18 m
■ Maximum speed: approx 29 km / h

A hoisting type rafting Attraction that goes down the torrent from 18 m above the ground. When I got on a 4-seater circular board, it started. Go through the torii written as "Shimpo should flow into the water" and go up to the top, and go down to the torrent.

道中、アップダウンを繰り返す「こぶこぶすべり台」、渦に吸い込まれるように落下する「うずまきの滝」も…!
濡れないようにどんなにあがいても、すべては後の祭り。ゴールする頃には全身ずぶ濡れに。
Point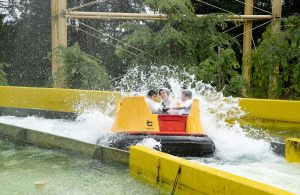 Soaked, inevitable!
Attraction Name suggests, you can enjoy "flowing?" = "Torrent". Many difficult points are waiting in the middle of the course of 500 m in length, and it is impossible to escape from a large amount of splashing water. Please enjoy with soaking wet.

For the water flowing to the water slider, use the spring water of Mt. Fuji! Just like " Cool Jappaan ", it is a wonder that it will not make you feel uncomfortable even if you take a splashed whole body. Are there any benefits?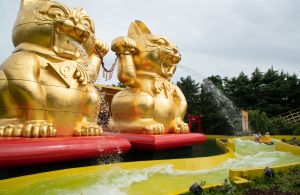 Certified as world's largest lucky cat pair
The symbol of " Nagashimasuka - Shoot the Chute ", a 10m high gold-plated couple beckoning cat "Okama" has been certified by the Japan Bunko Club as the "largest beckoning cat pair in the world". This is definitely profitable!
Map