Request for cooperation to customers
Fuji-Q Highland considers the health and safety of customers and employees to be the top priority, and adheres to the "Guideline for preventing the spread of new coronavirus infections at amusement parks and theme parks" and takes thorough measures to prevent infectious diseases. We are striving for safety measures so that customers can visit us with peace of mind.

When entering the park, it is mandatory to wear a mask, measure the temperature, and sterilize your hands. We will also check your physical condition.
All guests entering the park are required to wear a mask (aged 2 and older).
We ask for your cooperation in securing an interpersonal distance with a waiting line of 1 m.
Alcohol disinfectant is installed at each facility. We would appreciate your cooperation in diligent hand washing (washing gently with water and soap for about 30 seconds) and alcohol disinfection.
Please note that the following customers are not allowed to enter the park.
Customers who have a fever (37.5°C or higher after being measured by Fuji-Q Highland staff) are not allowed to enter the park.
Customers who have mild cold symptoms such as sore throat and cough, and vomiting and diarrhea.
Customers who cannot cooperate in temperature measurement, hand disinfection, and mask wearing.
Customers who have deep contact with people who are positive for new type coronavirus infection.
Customers who are suspected of being infected by a family member or a close acquaintance.
Customers who have traveled to countries, regions, etc. where the government has set restrictions on immigration, observation institutions after entry, and close contact with the resident within the past 14 days.
STORY
The beginning is the inspection tower of Fujiyama - King of Coasters
富士急ハイランドを象徴する大型コースター『FUJIYAMA』が
誕生25周年を迎えるにあたり、毎日の点検をよりスムーズに
行うために、点検塔の建設が計画されました。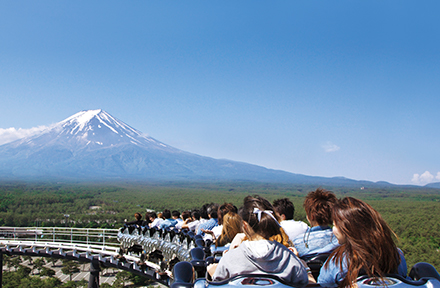 Superb view
これまで、『FUJIYAMA』に乗った人だけが見ることのできた息をのむほどに美しい富士山の"とっておきの絶景"をより多くの方に見ていただきたいという思いから、高さ55mの最上階を展望台として開放し、『FUJIYAMAタワー』として2021年夏、営業を開始します。
『FUJIYAMAウォーク』や『FUJIYAMAスライダー』といった絶叫エンターテインメントも。
富士山観光の新名所『FUJIYAMAタワー』にご期待ください。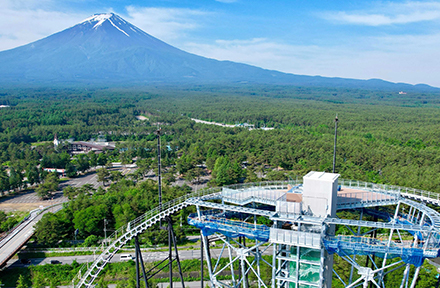 Fujiyama - King of Coasters SKY DECK
Take a look at Mt. Fuji at the observatory
Fujiyama - King of Coasters Sky Deck" on the top floor, you can enjoy the magnificent view of Mt. Fuji to your heart's content. The magnificent Mt. Fuji that appears in front of you on a sunny day is just overwhelming. You can overlook the ridgeline that stretches beautifully to the left and right to the skirt.
Please enjoy the lush sea of trees below, the magnificent Mt. Fuji, and the endless blue sky.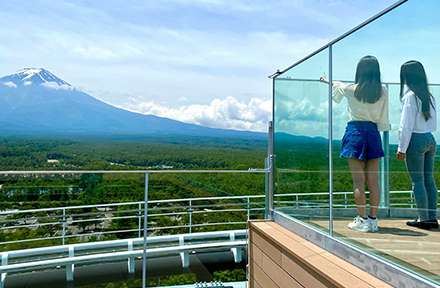 Fujiyama - King of Coasters SKY WALK
Full of Shrill Attraction
The appeal of "Fujiyama - King of Coasters Tower" is not limited to the spectacular scenery.
Fujiyama - King of Coasters Shrill Attraction entertainment that you can only experience here, wearing a harness and going around a windswept passage without handrails where you can see Mt. Fuji in front of you. Shrill Attraction at the same time in the best location with a panoramic view of Mt. Fuji.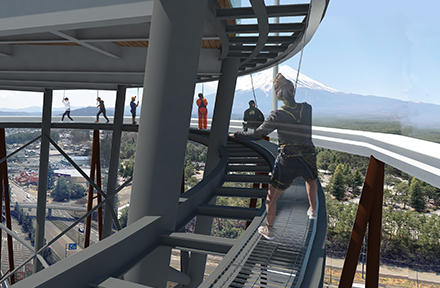 Fujiyama - King of Coasters SLIDER
A thrilling experience with a slider
※cominng soon
A tube type slider "Fujiyama - King of Coasters slider" is also available. Enjoy the exhilaration and thrill of sliding down from the 55m high "Fujiyama - King of Coasters