Even rain will take off! Fuji's appeal with "five senses"
Exciting point

Refreshing points

Shrill Attraction point
Price

1,500 yen
Riding capacity

40 people
Time required

7m15s
Height Restriction

110 cm 〜
Age Restriction

4 years old ~ * Preschool children must be accompanied by an attendant of junior high school or above
Available for Priority Ticket
Available for 65 years and older
Available in rainy weather
Also available for people with foot disabilities
Height restricted
Sightseeing flight type Attraction
Sightseeing flight around Mt. Fuji while climbing, descending and turning
Sightseeing flight type Attraction / ascending / descending / turning
Information
Usage criteria
Persons under 110cm in height are not allowed.

Not suitable for children under 4 years old.
Not available for pregnant women.

Preschool children must be accompanied by an attendant of junior high school age or older.

Passengers who are unable to maintain a correct boarding posture, unable to sit in a seat due to their physique, or unable to secure restraints are not permitted to use the aircraft.

Those with low or high blood pressure, those with cerebrovascular or cranial nervous system abnormalities, those with spinal cord, neck, leg, lower back, or chest disease, those with heart disease, those who are in poor physical condition, those who drink alcohol, and those with bone fractures. This service is not available to those who are currently undergoing surgery, are wearing a cast, are at risk of fragility fractures due to low bone mass or osteoporosis, or are deemed unsuitable by the staff.
Attraction overview
Screen diameter: 20 m

" Fuji Airways - 4D Ride " appeared in 2014 as Japan's first flight simulation ride. This is an Attraction that offers an overwhelming scale flying experience, with images of Mt. Fuji projected on a huge screen that wraps around the seat.

In the renewal of July 2016, newly added images taken with the 6K camera, motor paraglider and drone, so that the appearance of Mt. Fuji full of presence and the change of the surrounding season can be felt more.

Due to all weather type Attraction , even if the weather where Mt. Fuji can not be seen does not matter. Fuji which can not be seen usually, such as flight while looking down at Mt. Fuji closely, low-altitude flying at the lake side, and so on. We will deliver an exciting journey to our customers.

≪About baggage≫
Baggage, pocket contents, accessories, etc. may fall during boarding and are extremely dangerous.
Please leave all your baggage in the locker provided at the platform before boarding.

≪For fun and safe use≫
Those who cannot maintain the correct boarding posture, those who cannot sit in the seat due to their physique and hairstyle,
And those who cannot fix the restraint device cannot use it.
Point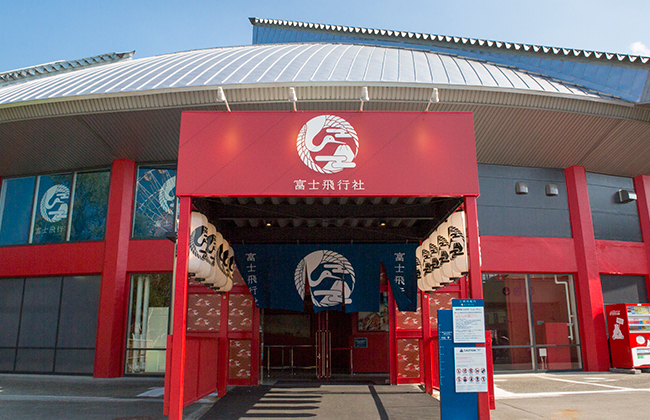 Fuji can be experienced with five senses!
The flight images around Mt. Fuji and the seats are interlocked, and various kinds of gimmicks that can feel the winds blowing through the foot of Mt. Fuji, the splashing of the lake surface, the fragrance of the forests and flowers, etc are prepared.

The images during the flight include "Fuji Shiba Sakura Festival", which attracts attention from tourists all over the world, "Shinchurayama Asama Park - Tadashi Tower", "Kitaguchi Motomiya Fuji Asama Shrine" which is the entrance to Mount Fuji Attractions around Mt. Fuji also appear!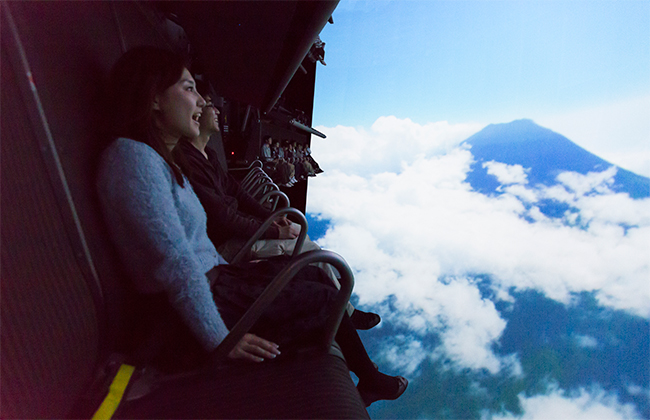 Music composed by Mr. Joe Hisaishi!
The music that flows while riding is original song "Mt. Fuji" written down by Mr. Joe Hisaishi, composer representing Japan. The spectacular melody weaving full orchestra makes a direct impression of Mt. Fuji flight.
Map